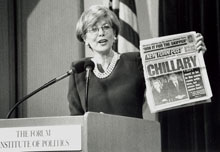 60 Minutes co-editor and CBS News correspondent Lesley Stahl received the 1999 Goldsmith Career Award for Excellence in Journalism. The award is given annually by the Joan Shorenstein Center to recognize and honor a journalist whose work has enriched our political discourse and our society.
"Lesley Stahl has done it all. She covered Watergate, she was a White House correspondent, and now she adds solid reporting and luster to the reporting staff of 60 Minutes," said Marvin Kalb, director of the Shorenstein Center. "She deserves this honor."
The $25,000 Goldsmith Prize for Investigative Reporting was awarded to journalists from The Miami Herald for "Dirty Votes: The Race for Miami Mayor." Launched in 1991, the Goldsmith Prize for Investigative Reporting honors journalism that promotes more effective and ethical conduct of government, the making of public policy, or the practice of politics by disclosing excessive secrecy, impropriety and mismanagement, or instances of particularly commendable government performance.
The $5,000 Goldsmith Book Prize was awarded to James Hamilton for Channeling Violence: The Economic Market for Violent Television Programming. The Book Prize is awarded to the best book that seeks to improve the quality of government or politics through an examination of the press and politics in the formation of public policy.
A related seminar followed the award ceremony the next morning. A panel discussion included Lesley Stahl along with finalists for the Goldsmith Prize for Investigative Reporting: Kim Bell, The St. Louis Post-Dispatch; William Allen, The St. Louis Post-Dispatch; Will Englund, The Baltimore Sun; Gary Cohn, The Baltimore Sun; Alix Freedman, The Wall Street Journal; Bart Gellman, The Washington Post; and Dan Keating, The Miami Herald. Marvin Kalb, director of the Joan Shorenstein Center, moderated the discussion.
This article is based on one in the Harvard Gazette.
Ceremony Date
March 11, 1999
Note
The annual Goldsmith Awards Program is funded by the Greenfield Foundation.