The 2004 Goldsmith Prize for Investigative Reporting has been awarded to the New York Times and Frontline by the Joan Shorenstein Center on the Press, Politics and Public Policy for their award-winning investigative report "Dangerous Business: When Workers Die." The Shorenstein Center is part of the John F. Kennedy School of Government at Harvard University.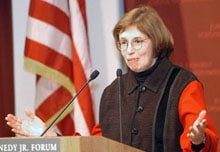 The New York Times investigative series and Frontline documentary, "Dangerous Business," found that hundreds of employers have killed their workers by willfully disregarding basic safety rules. Their work prompted a criminal investigation into safety and environmental records, leading to indictments, and to OSHA announcing steps to strengthen the oversight and punishment of persistent violators.
Members of the New York Times and Frontline team include David Barstow, Lowell Bergman and David Rummel.
Launched in 1991, the Goldsmith Prize for Investigative Reporting honors journalism which promotes more effective and ethical conduct of government, the making of public policy, or the practice of politics by disclosing excessive secrecy, impropriety and mismanagement, or instances of particularly commendable government performance.
The five finalists for the Goldsmith Prize for Investigative Reporting were: Russell Carollo and Mei-Ling Hopgood, of the Dayton Daily News in Ohio for exposing assaults against Peace Corps volunteers and the agency's attempt to conceal their knowledge of such abuses; Gannett New Jersey Newspapers for shedding light on the abuse of power by some New Jersey Legislators for the benefit of their family and friends. Chuck Neubauer, Richard T. Cooper and Judy Pasternak of the Los Angeles Times for their expose on how some U.S. Senators' abuse of special interest groups accrue hundreds of thousands of dollars for family members acting as lobbyists and consultants; Joe Stephens and David B. Ottaway of the Washington Post for exposing wayward practices by the Nature Conservancy, the nation's largest private environmental group, and Phil Williams and Bryan Staples of WTVF-TV, Nashville, TN, who focused on the unethical conduct of many Tennessee public officials, including the then-president of the University of Tennessee. Each of the finalist teams will receive a $2,000 prize.
In addition, Goldsmith Book Prizes were awarded to Scott L. Althaus for Collective Preferences in Democratic Politics: Opinion Surveys and the Will of the People, Paul M. Kellstedt for The Mass Media and the Dynamics of American Racial Attitudes and to Bill Katovsky and Timothy Carlson for Embedded: The Media at War in Iraq. The Goldsmith Book Prize is awarded to the best academic and best trade books that seek to improve the quality of government or politics through an examination of press and politics in the formation of public policy.
The Goldsmith Career Award for Excellence in Journalism was given to Linda Greenhouse, Supreme Court correspondent of the New York Times.
The annual Goldsmith Awards Program receives financial support from the Goldsmith-Greenfield Foundation.
Ceremony Date
March 17, 2004
Note
The annual Goldsmith Awards Program is funded by the Greenfield Foundation.